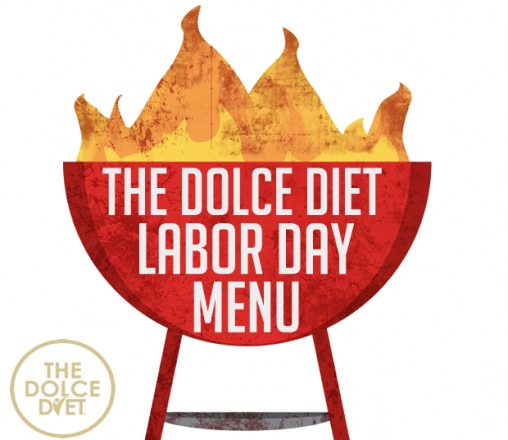 Healthy Recipes for a Laid Back Weekend
Ahh, Labor Day. A day of relaxation, laughter and doing fun, non-work related activities. There's usually a BBQ or two you'll be invited to as a sendoff to summer. And like any other holiday, you don't have to sacrifice all the hard work you've put in! Whether you are hosting a small get-together, or will be attending as a guest and want to bring something healthy, we've got you covered with Dolce-Approved recipes that you've labored hard for! I'm sure you've heard of the fashion faux paus no white after Labor Day, right? Well you also won't be seeing any white, refined, processed ingredients in any of these fun recipes!
Appetizer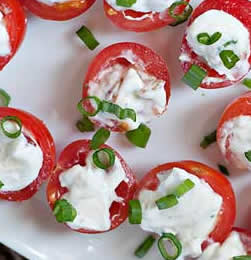 BLT Stuffed Tomatoes
8 ounces avocado, mashed
4 slices turkey bacon, cooked and crumbled
1 tbsp. parmesan cheese or nutritional yeast
2 tsp fresh parsley, chopped
green onions, for garnish (optional)
sea salt and pepper, to taste
about 20 cherry tomatoes
Directions:
Wash cherry tomatoes and slice them in half. Scrape out the inner membranes with a spoon or paring knife. Dab the inside of each tomato with a paper towel to dry it and then sprinkle with salt. Mix together the avocado, bacon pieces, parmesan, parsley, salt and pepper. Spoon or pipe the filling into each tomato and sprinkle the tops with chopped green onions (or more parsley).
Main Courses
The Chicken Burger from The Dolce Diet Living Lean Cookbook
1 lb. ground chicken
1 shallot, diced
1 tbsp. garlic, minced
½ cup crimini mushrooms
1 egg
4 tbsp. grapeseed oil
1 green bell pepper, chopped
4 whole wheat or gluten-free buns
Large handful baby spinach leaves
1 large avocado, sliced
1 large vine-ripened tomato, sliced
½ cup oat bran or buckwheat
1 tsp. sea salt
1 tbsp. black pepper
Directions:
In large pan, add 2 tbsp. grapeseed oil and sauté the shallot, bell pepper and garlic until tender. Add in the mushrooms and stir for about 2 minutes or until mushrooms brown. Set aside and let vegetables cool. Next, in a large bowl, combine the chicken, vegetables, egg, oat bran, salt and pepper. Mix all ingredients together and form into 8 patties. Heat 2 tbsp. grapeseed oil in large pan and cook each chicken patty over medium heat for about 5 minutes on each side until cooked through. Place burgers on buns or lettuce leaves and top with tomato, avocado and spinach. Add ketchup or mustard to taste.
Side Dishes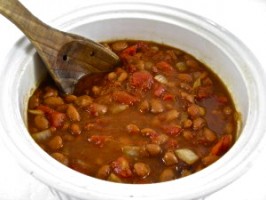 Classic Baked Beans
1 tsp. grapeseed oil
1 medium onion, minced
2 cans (15 oz each) pinto beans, rinsed and drained
1 can (15 oz) petit diced tomatoes
1 cup Annie's Organic Barbecue Sauce
3 tbsp. Worcestershire sauce
3 tbsp. spicy brown mustard
Several drops of Tabasco, to taste
Directions:
Preheat oven to 350 degrees. In a large nonstick pan, heat grapeseed oil.  Add onions and sauté until tender, about 5 minutes. Add beans and remaining ingredients. Mix well and cook on medium for about 5 minute. Pour flavored beans into a greased 2 quart casserole dish (or similar size) ovenproof pan. Bake until beans are bubbly, about 35-40 minutes and until beans are tender.  Let stand to thicken slightly and serve.
Dessert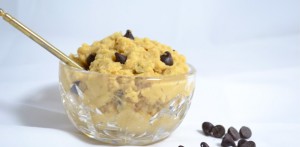 "Chocolate" Cookie Dip
1 ½ cups chickpeas or white beans (1 can, drained and rinsed very well)
1/8 tsp plus 1/16 tsp salt

a little more than 1/8 tsp baking soda
2 tsp. maple syrup
1/4 cup almond butter or 3 tbsp. all-natural peanut butter
up to 1/4 cup almond milk, only if needed
1 tbsp. honey
1/3 cup carob nibs
2 to 3 tbsp. oats
Sliced fruit for dipping
Directions:
Mash chickpeas then combine rest of ingredients in food processor until well-blended and mixture is cookie dough-like consistency. Use as a dip or spread of sliced apples, pears and other fruits. Enjoy!
Drinks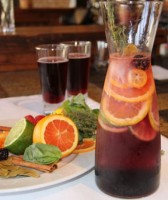 Labor of Love*
1 sliced peach
1 sliced plum
1/2 pint blueberries
1/2 cup halved white grapes
1/2 pint raspberries or blackberries
1 sliced lime
3 sprigs of fresh thyme
1 sprig of fresh rosemary
1 sprig of fresh basil
1 bottle of sparkling water
Directions:

Combine all ingredients and mash together in a pitcher
Note: For an adult version, replace 1 bottle of sparkling water with 1 bottle of Spanish or Italian sparkling wine, and add1 cup white whiskey tequila. Remember, 1 oz of hard liquor = 100 calories.
---